Welcome to the official Real Thing website!
Formed in 1972, The Real Thing are Britain's longest-established – and best-loved – black group in UK entertainment history. Universally known for their legendary hits 'You To Me Are Everything', 'Can't Get By Without You' and 'Can You Feel the Force', as well as their ground-breaking 1977 song, 'Children of the Ghetto', The Real Thing remain pioneers in soul, funk and dance music.
Original members – Chris Amoo and Dave Smith – are now celebrating over 45 incredible years in the music industry, and they're still going strong, playing hundreds of gigs across the world.
The Real Thing invite you to come and see them live on stage!
The Real Thing – Someone Oughta Write A Song (About You Baby)
The Real Thing – You To Me Are Everything
Live at the Liverpool Philharmonic Hall
Best known for their legendary hits 'You To Me Are Everything', 'Can't Get By Without You' and 'Can You Feel the Force', as well as their ground-breaking 1977 song, 'Children of the Ghetto', The Real Thing remain Britain's most successful black group of all-time. Pioneers in soul, funk and dance music, the two original members – Chris Amoo and Dave Smith – are now celebrating over 45 years in the music industry. Still gigging across the world, the band's success and longevity is unprecedented in British entertainment history.
Although The Real Thing were established in Toxteth, Liverpool, L8, in 1972, the band actually has its roots in Sixties' vocal harmony group, The Chants; Britain's first black acapella quintet, established by Chris' older brother Eddy. A chance meeting with Paul McCartney at a Little Richard concert at the Tower Ballroom in Birkenhead, led to The Chants being invited to audition for The Beatles at Liverpool's famous Cavern Club.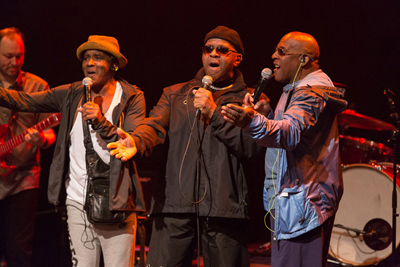 The Beatles were so knocked out by the group's sound that they invited the boys to appear with them that same night, much to the reluctance of their manager, Brian Epstein, who didn't want his group being backed by anybody.
Thanks to John Lennon's persistence, The Chants were a resounding success on stage, and for a brief time, Epstein represented them. The band was signed to Pye Records by Tony Hatch, but despite touring for 13 years The Chants were unable to achieve the same level of success as their 'Merseybeat' peers. Throughout his time performing with The Chants, Eddy honed his burgeoning songwriting skills, which were to stand him in good stead for his next musical collaboration.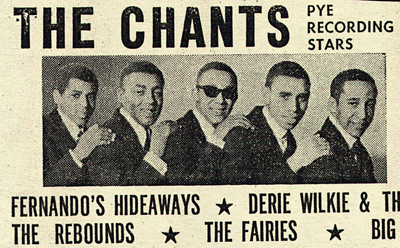 Whilst Eddy was busy with The Chants, his younger brother Chris had been watching intently. Inspired by his elder sibling, Chris formed his own vocal group, extravagantly-called The Sophisticated Soul Brothers. The band consisted of Chris and his friends Dave Smith, Ray Lake and Kenny Davis (and later joined by Edward Ankrah, younger brother of Joe Ankrah, from The Chants). The S.S.B. began to pick up gigs and were soon brought to the attention of legendary A&R man Tony Hall, who drove up to Liverpool from London to see them perform. He signed them immediately, but decided they needed to change their name. Sitting in his car one day at traffic lights at Piccadilly Circus, Tony looked up the famous Coca-Cola advertising slogan blinking above him and made his mind up immediately. In January 1972, The Real Thing were born.
Within days, the band was appearing on long-running ITV talent show 'Opportunity Knocks', presented by Hughie Green. The guys performed a cover version of 'Grazin' the Grass', and easily won the show, getting the highest score for their episode. The band were the very first all-black group to appear on a TV talent show, but sadly, that pioneering TV performance no longer exists in the archives, having been wiped in the 1980s.
Tony Hall guided his new band through the often-treacherous labyrinth of the music business, acting as their mentor and never once losing faith in the foursome. Just three months after their 'Opportunity Knocks' appearance, The Real Thing released their debut single, 'Vicious Circle', written by Eddy. Tony was handed a cassette of tunes Eddy had composed, whilst in The Chants, and was so impressed with his songwriting skills that he requested even more original material. Released on EMI records in April 1972, 'Vicious Circle' was a hard-hitting 'conscience' song, in the mode of The Temptations' 'Cloud Nine'. Although it didn't chart, the song gained plenty of airplay and positive reviews from the predominantly white music press.
Eddy became a regular at The Real Thing's recording sessions, often contributing instrumentation and extra vocals. The band's second single, 'Plastic Man', was released in January 1973; just weeks after the group had represented the UK at the lavish 'Gala de l'Unicef', held in Paris. The concert was later broadcast in 14 countries around the world. 'Plastic Man' earned the group their first appearance on BBC TV's 'Top of the Pops', but it was spoiled somewhat when DJ Jimmy Savile erroneously announced the group as "… the Plastic Men singing their new single, The Real Thing!"
Eddy and Chris Amoo had now formed an unbeatable songwriting partnership and manager Tony Hall realised success ultimately lay with the band being able to come up with their own distinctive sound. Other single releases came in quick succession, including 'Listen Joe McGintoo', 'Check It Out', 'Daddy Dear', and 'Love Is A Playground'. Kenny Davis exited the band in 1974, and for a while The Real Thing continued as a trio, performing with a formidable group of musicians including Vic Lynton (guitar), Nigel Martinez (drums), Pete Nelson (keyboards), Earl Lee Robinson (bass) and twin brothers Jon and Dave Plotel (bass & guitars). At the time, The Real Thing wanted to establish themselves as a tight soul/funk 'unit', similar to Earth, Wind and Fire or Funkadelic.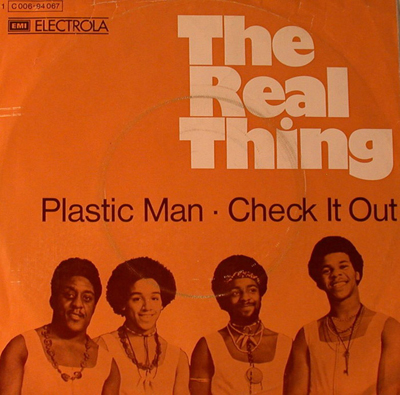 After the demise of The Chants, Eddy Amoo joined The Real Thing full-time, making the band a quartet once more. The group signed with Pye and released a brilliant new single – 'Stone Cold Love Affair' – written by Ron Roker and Gerry Shury, which became a big club hit both in Europe and the US. Through producer Jeff Wayne the group was introduced to singer David Essex, who instantly loved the band's look and sound, and invited them to contribute backing vocals to his 1975 album, 'All the Fun of the Fair'. Essex also wrote and produced their next single, 'Watch Out, Carolina', released in September 1975. Jeff Wayne engaged Eddy, Chris, Dave and Ray to sing on the soundtrack of his forthcoming concept album, 'War of the Worlds'. Chris took lead vocals on iconic track 'Forever Autumn', but before the project was released Wayne's negotiations with Pye Records broke down, and the band's soulful vocals were replaced by a variety of other singers, including Justin Heyward from The Moody Blues.
The Real Thing toured with David Essex extensively, including his American 'Lamplight' tour, and exposed the band to a more mainstream pop audience. Whilst in the US they even headlined at the famous 'Bottom Line' club in New York's Greenwich Village, performing with three of the hottest black musicians in the city – John Lee, Reggie Lucas and Jerry Brown, who had all played with Miles Davis. In early-1976 the boys appeared on Essex's latest single 'City Lights' and co-starred with him in the video, shot in London's West End.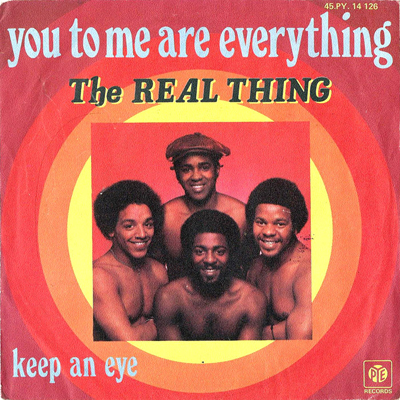 Naturally, The Real Thing were still looking for that elusive big hit single and then, quite suddenly, their fortunes changed forever. Hugely popular songwriters Ken Gold and Michael Denne contacted Tony Hall, requesting that they write a song for the band. The British duo had already enjoyed success across the Atlantic, with Aretha Franklin, Billy Ocean and Jackie Wilson, but were now looking for a home-grown hit. Gold & Denne's publishers had, inexplicably, ignored their latest composition, and Tony Hall asked that The Real Thing be allowed to record it.
The song was called 'You To Me Are Everything'.
The record was laid-down at Camden's famous Roundhouse Studios, with Lynton Naif doing the arrangements. Lynton had recently worked on Maxine Nightingale's global chart-topper 'Right Back Where We Started From' and was highly sought-after. Everybody knew immediately that 'You To Me Are Everything' had 'hit' stamped all over it. Released on 14 May 1976, the song was picked up immediately by BBC Radio One and gradually crept up the charts during that scorching, record-breaking summer, selling some 30,000 copies per day.
The band performed the song five times on 'Top of the Pops' in 1976 and it eventually knocked The Wurzels' 'Combine Harvester' off the #1 spot. It remained at the summit for three solid weeks and was the first number one hit for an all-black UK group. 'You To Me Are Everything' has subsequently been recognised as the 69th most played record of all-time in Great Britain, and is listed by the Guinness Book of Hit Singles as one of the top 100 songs of the millennium.
The follow-up song, again written by Gold and Denne, was nearly as successful. 'Can't Get By Without You' was released on 27 August 1976 and reached number two in the UK charts, remaining in the top forty for 10 continuous weeks. On the strength of their second big hit single, the band released their self-titled debut album in November 1976, produced by Jerome Rimson, later to be a member of short-lived US band Atomic Man.
Aside from the two Gold/Denne hits the remainder of the album was solely filled with original Amoo Brothers compositions – a huge gamble, but one the band felt they needed to take if they were going to be recognised as a serious group. A 19-date tour around the UK promoted the album, culminating in a 'homecoming' gig at the Grafton Rooms in Liverpool. The band's next single – 'You'll Never Know What You're Missing' – comfortably sailed into the top 20 in January 1977, and gave Eddy and Chris their first bona fide hit as songwriters. The Real Thing capped a hugely successful 12 months by winning the 'Best New Group' gong at the 'Daily Mirror Awards', held at Bingley Hall, Birmingham. The ceremony was headlined by Paul McCartney, who Eddy hadn't seen for well over a decade.
June 1977 brought a brand new song, the beautiful 'Love's Such A Wonderful Thing'. Despite only reaching #33 in the UK, the single shifted some 90,000 copies, and 25 years later Eddy and Chris's faith in the song was justified when it was first sampled by French DJ duo Daft Punk for a white-label bootleg, and then two years later by The Freeloaders for their single 'So Much Love to Give'. The dance track became a smash with clubbers in Ibiza, and across Europe, eventually reaching #9 in the UK charts.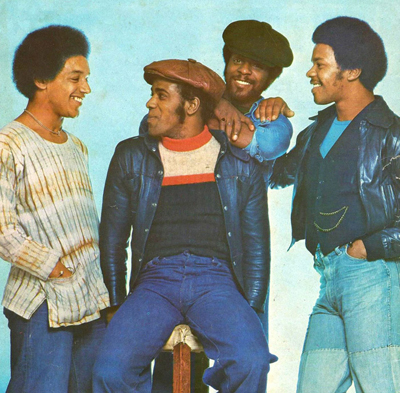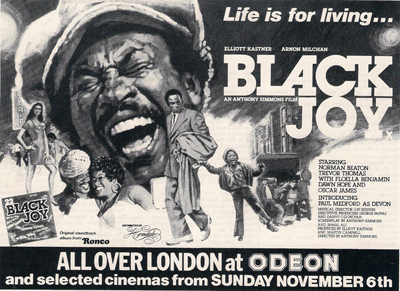 'Love's Such a Wonderful Thing' was intended as the first cut from the band's sophisticated second album, '4 from 8′ (shorthand for 'four lads from Liverpool 8'). The collection of 10 self-penned songs was indeed ambitious, with the lyrics touching on many social issues facing the working class black community at that time.
Pye Records threw all their weight behind an extensive marketing campaign to promote the LP. "To Get Close to The Real Thing, Get 4 from 8" shouted the advertising posters, but The Real Thing's ambitious change from pure pop to proper politics was not always to a mainstream audience's taste. Frustratingly, the addictive driving percussion of next single 'Lightning Strikes Again' didn't make it a hit, despite massive airplay. It also appeared on the soundtrack to Britain's very first all-black movie, 'Black Joy' (1977), in which the band also had a cameo appearance, singing at Count Suckle's celebrated Q Club in Paddington.
The real strength of '4 from 8′, however wasn't the more commercial-sounding tracks, it was the awe-inspiring 'Liverpool 8 Medley' – a tryptic of stunning, melodic songs, speaking directly from the streets of Toxteth. The trio of 'Liverpool 8', 'Children of the Ghetto' and 'Stanhope Street' were light years ahead of their time, and totally unique in British music, being the first home-grown soul music to properly address the experience of black people in the UK.
Music magazine, 'Black Echoes' reviewed the album in July 1977 and heaped praise on the songs. 'The band continually delights,' they wrote, 'and the singing on the Liverpool 8 Medley is superb…' Ironically, 'Children of the Ghetto', although never promoted to single status, has enjoyed the greatest longevity of any Amoo composition. It was first covered by Phillip Bailey (from Earth, Wind and Fire) on his Phil Collins-produced 'Chinese Wall' album (1984), as well as by Courtney Pine (1986) and Paul Hardcastle (2006). Additionally, since 2002, the song has appeared regularly on the set-list for Mary J Blige's live concerts, and features on her 2004 collection, 'Live in Los Angeles' (2004)
The group reverted to a poppier sound for their January 1978 mid-tempo single, 'Whenever You Want My Love', composed by old favourites Ken Gold and Michael Denne, and returned them to the UK top 20, and two appearances on BBC1's 'Top of the Pops'. The single acted as a taster for the band's third album, 'Step Into Our World', produced by Ken Gold, with superb brass arrangement by Lynton Naif. The Amoo Brothers regard one of the album's stand-out tracks, the super-smooth 'Won't You Step Into My World', as one of their finest ever songs. The album begat another amazing single, 'Rainin' Through My Sunshine' in August 1978, which sold 80,000 copies in its first week, and features one of Chris's strongest-ever lead vocal performances.
The band's other hit single of 1978 was 'Let's Go Disco', written and produced by prolific Indian musician Biddu Appaiah for the soundtrack of massively-successful 'X'-rated movie 'The Stud', starring Joan Collins. The band also made an energetic appearance in the movie performing the track.
A few months later, in January 1979, came 'Can You Feel the Force', penned by the Amoo Brothers, and the song that propelled them back into the top 5 all across Europe. The band considered this to be one of the greatest moments of their career, and a song which they are still immensely proud of. By the end of the decade, The Real Thing had established themselves as Britain's best-selling black band of all-time.
A string of other singles followed, including 'Boogie Down (Get Funky Now)', 'Give Me Your Love' and 'Saint or Sinner', all recorded for the band's fourth album 'Saints or Sinners', released in January 1980, and produced by Frenchman Jean-Phillipe Illiesco (who had produced the huge Euro band Space). Sadly the collaboration was not to be a happy one. After moving from Pye Records to the Calibre label, The Real Thing released one of the best dance tracks of their entire career, the Michael Jackson-influenced 'She's a Groovy Freak', produced in America by James Mtume & Reggie Lucas. The song packed dancefloors across the UK.
The 1980s were a time of mixed fortunes for the band. The group returned to working with David Essex, performing backing for his 1982 hit 'Me and My Girl (Nightclubbing)' and accompanying him on his controversial 1983 tour of South Africa, which, in the era of apartheid, they now consider one of the very few regrets of their entire career.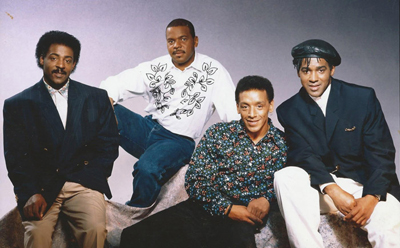 The Real Thing were saved in February 1986 when 'You To Me Are Everything' re-entered the European charts in a brand new remix by DJ Froggy & Simon Harris, eventually reaching #5 in the UK. With renewed interest in the band, they followed it with new hit remixes of both 'Can't Get By Without You' and 'Can Feel the Force', plus a Best Of collection returning them to the charts, primetime TV and national radio for the first time in several years. The group's rebirth prompted a new record deal with Zomba, which produced a brand new single 'Straight to the Heart', co-written by Michael Denne, and released in October 1986. Three further songs emerged from the band's time with Zomba – the sublime 'Hard Times', a beautiful re-recording of 'Children of the Ghetto' and a cover version of 'I Can't Help Myself (Sugar Pie, Honey Bunch)', all released throughout 1987.
Unfortunately, Ray Lake's personal problems were starting to create difficulties, and he left The Real Thing in 1991. He died nine years later, aged just 48. For 26 years the group continued as a trio – Eddy, Chris and Dave – performing live across the world to their incredibly loyal fan-base, which sustained them musically and creatively.
In 2005, the group were invited to appear on ITV's 'Hit Me Baby, One More Time', where they performed an astonishing new version of Justin Timberlake's 'Cry Me a River'. The same year they recorded an updated arrangement of The Beatles' 'Eleanor Rigby', for the critically acclaimed 'Liverpool Number Ones' album. It remains one of Sir Paul McCartney's favourite ever cover versions of his songs.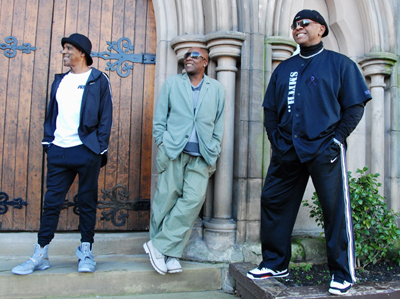 Today, The Real Thing are still in enormous demand; their touring shows (complete with a live five-piece band) still entertain audiences almost every week of the year. In 2013 the group captured their live show on CD and DVD with 'Live at the Liverpool Philharmonic', which has been hugely acclaimed. As recently as October 2016 The Real Thing travelled to Australia for their first ever tour Down Under, wowing theatres with their legendary energetic shows. Sadly, in February 2018, Eddy Amoo passed away at the age of 73. His presence is hugely missed, but Chris and Dave continue to tour and their legacy as Britain's premier black group endures. Their unique reputation for hits, musicality and showmanship carries on.
Chris Amoo and Dave Smith aren't just something.
They are The Real Thing.
All words © Simon Sheridan 2019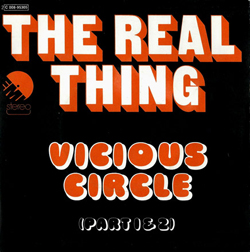 'VICIOUS CIRCLE'
April 1972
Written by Eddy Amoo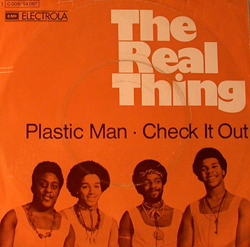 'PLASTIC MAN'
January 1973
Written by Eddy Amoo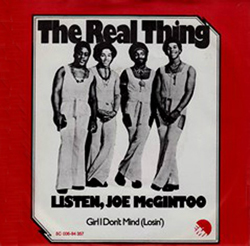 'LISTEN, JOE MCGINTOO'
May 1973
Written by Eddy Amoo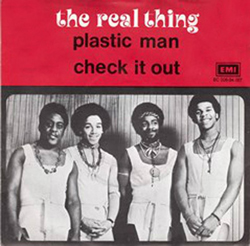 'CHECK IT OUT'
November 1973
Written by Eddy Amoo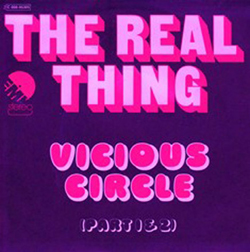 'VICIOUS CIRCLE'
(re-recording)
February 1974
Written by Eddy Amoo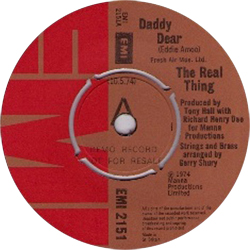 'DADDY DEAR'
May 1974
Written by Eddy Amoo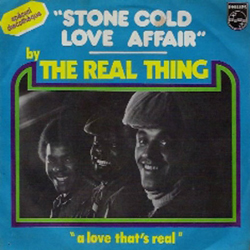 'STONE COLD LOVE AFFAIR'
May 1975
Written by Gerry Shury & Ron Roker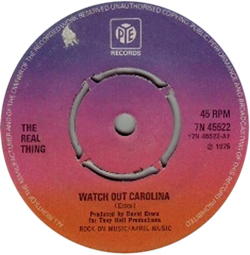 'WATCH OUT, CAROLINA'
September 1975
Written by David Essex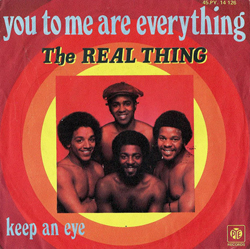 'YOU TO ME ARE EVERYTHING'
May 1976
Written by Ken Gold & Mick Denne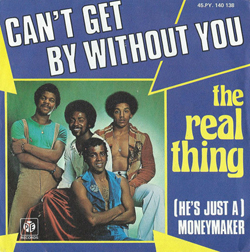 'CAN GET BY WITHOUT YOU'
August 1976
Written by Ken Gold & Mick Denne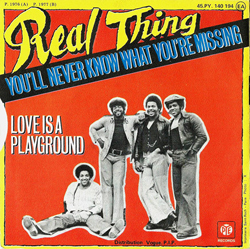 'YOU'LL NEVER KNOW WHAT YOU'RE MISSING'
January 1977
Written by Eddy & Chris Amoo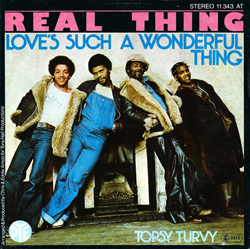 'LOVE'S SUCH A WONDERFUL THING'
June 1977
Written by Eddy & Chris Amoo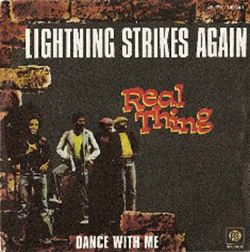 'LIGHTNING STRIKES AGAIN'
(from the movie 'Black Joy')
September 1977
Written by Eddy & Chris Amoo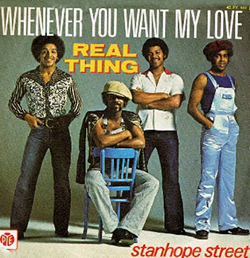 'WHENEVER YOU WANT MY LOVE'
January 1978
Written by Eddy & Chris Amoo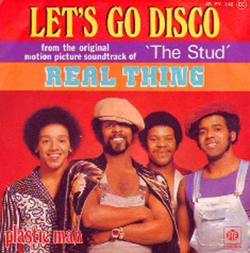 'LET'S GO DISCO'
(from the movie 'The Stud')
May 1978
Written by Biddu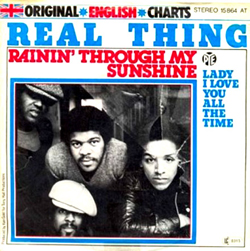 'RAININ' THROUGH MY SUNSHINE'
August 1978
Written by Eddy & Chris Amoo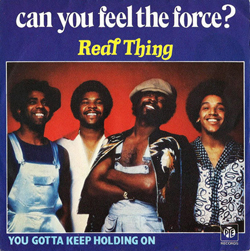 'CAN YOU FEEL THE FORCE'
January 1979
Written by Eddy & Chris Amoo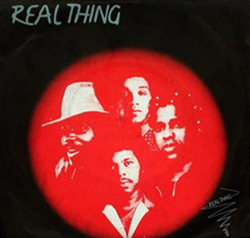 'BOOGIE DOWN'
(Get Funky Now)
June 1979
Written by Eddy & Chris Amoo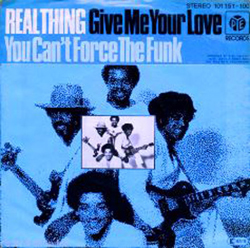 'GIVE ME YOUR LOVE'
November 1979
Written by Eddy & Chris Amoo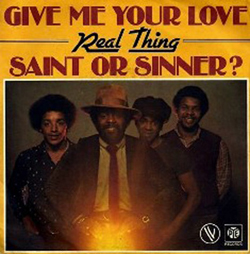 'SAINT OR SINNER'
February 1980
Written by Eddy & Chris Amoo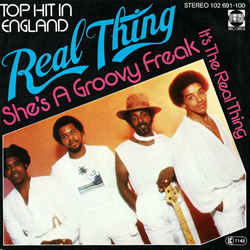 'SHE'S A GROOVY FREAK'
November 1980
Written by Eddy & Chris Amoo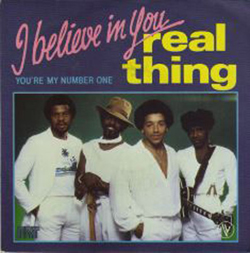 'I BELIEVE IN YOU'
June 1981
Written by Ken Forsey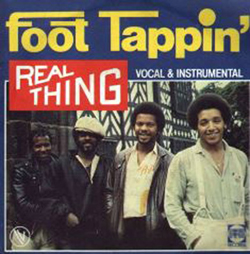 'FOOT TAPPING'
September 1981
Written by Eddy & Chris Amoo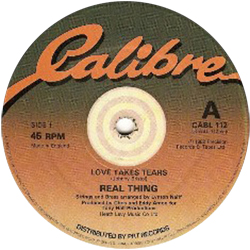 'LOVE TAKES TEARS'
January 1982
Written by Johnny Bristol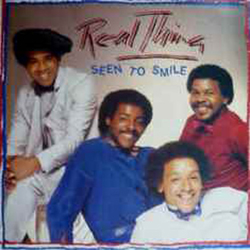 'SEEN TO SMILE'
August 1982
Written by Eddy & Chris Amoo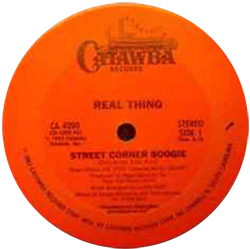 'STREET CORNER BOOGIE'
January 1983
Written by Eddy & Chris Amoo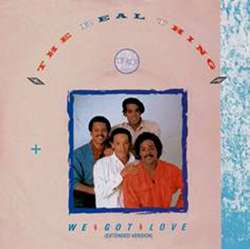 'WE GOT LOVE'
September 1984
Written by Terry Britten & Lynsey de Paul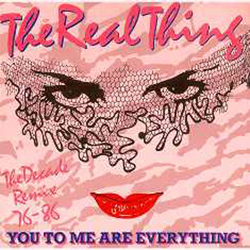 'YOU TO ME ARE EVERYTHING'
(The Decade Mix)
February 1986
Written by Ken Gold & Mick Dunne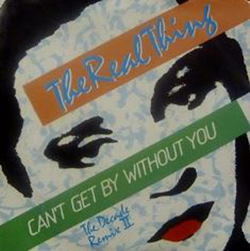 'CAN'T GET BY WITHOUT YOU'
(Second Decade Mix)
May 1986
Written by Ken Gold & Mick Dunne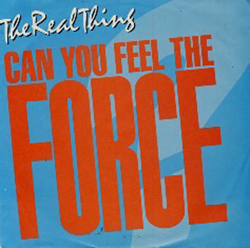 'CAN YOU FEEL THE FORCE'
(1986 Remix)
July 1986
Written by Eddy & Chris Amoo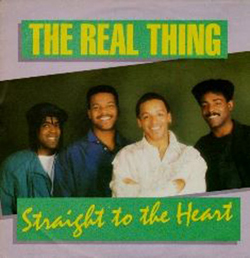 'STRAIGHT TO THE HEART'
October 1986
Written by Mick Denne & RJ Smith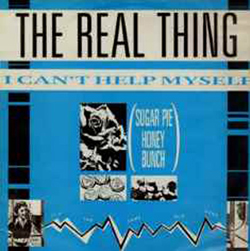 'I CAN'T HELP MYSELF'
January 1987
Written by Holland, Dozier, Holland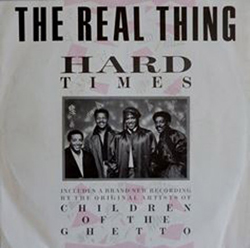 'HARD TIMES'
February 1987
Written by Eddy & Chris Amoo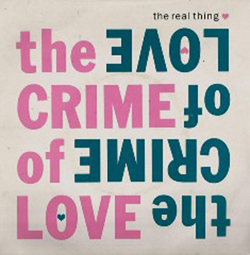 'THE CRIME OF LOVE'
March 1989
Written by David James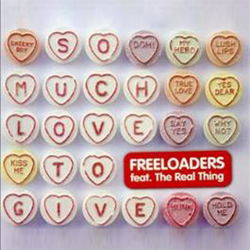 'SO MUCH LOVE TO GIVE'
(duet with The Freeloaders)
April 1995
Written by Eddy & Chris Amoo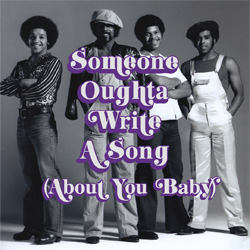 'SOMEONE OUGHTA WRITE A SONG (ABOUT YOU BABY)'
December 2019
Written by Ken Gold & Mick Denne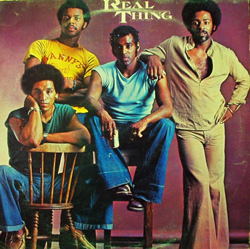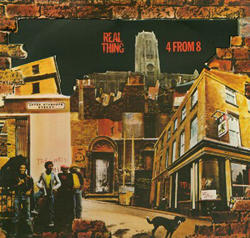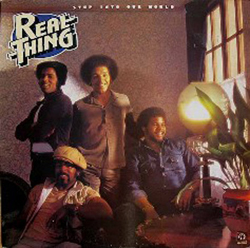 'STEP INTO OUR WORLD'
1978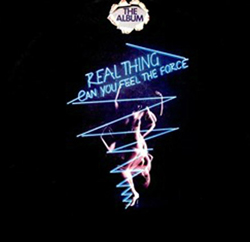 'CAN YOU FEEL THE FORCE'
1979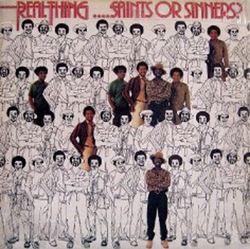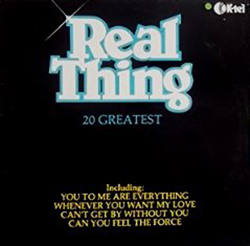 'BEST OF THE REAL THING'
1986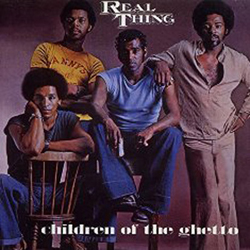 'CHILDREN OF THE GHETTO – THE PYE ANTHOLOGY'
1999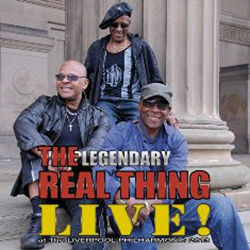 'LIVE AT THE LIVERPOOL PHILHARMONIC'
2013
2023
JANUARY
FEBRUARY
MARCH
FRIDAY 17 - LONDON BOISDALE

APRIL
SATURDAY 1 - CHELMSFORD – CIVIC THEATRE
SATURDAY 8 - LONDON - PIZZA EXPRESS
SATURDAY 15 - NEWARK – PALACE THEATRE
FRIDAY 21 - LIVERPOOL – BENTLEYS
SATURDAY 22 - RHYL – PAVILION THEATRE
SUNDAY 23 - RUNCORN – BRINDLEY THEATRE
FRIDAY 28 - KINGS LYNN – CORN EXCHANGE
SATURDAY 29 - BASINGSTOKE – HAYMARKET THEATRE


MAY
GERMANY - GERMANY – BALTIC FESTIVAL
SATURDAY 20 - CHESTERFIELD – WINDING WHEEL
THURSDAY 25 - LONDON – BOISDALE
FRIDAY 26 - LONDON – BOISDALE
WEDNESDAY 31 - WIMBOURNE - TIVOLI
JUNE
THURSDAY - LONDON - ROYAL ALBERT HALL
FRIDAY 9 - LINCOLN - THEATRE ROYAL
SATURDAY 10 - CAMBRIDGE FESTIVAL - CHILDERLEY ORCHARD
FRIDAY 16 - CAMBERLEY – THEATRE
SATURDAY 17 - LEEDS – LETS ROCK
FRIDAY 23 - BEDFORD - PARK FESTIVAL
SATURDAY 24 - HALIFAX – PIECE HALL FESTIVAL
SUNDAY 25 - EXETER – CHIEFS RUGBY STADIUM
FRIDAY 30 - SHEFFIELD – MONTGOMERY THEATRE
JULY
THURSDAY 6 - MANCHESTER – BLUES KITCHEN
SATURDAY 8 - HERTFORD – DOG & WHISTLE
THURSDAY 13 - BIRMINGHAM – JAM HOUSE
FRIDAY 14 - NEWPORT – PARTY AT THE PARK FESTIVAL
SATURDAY 22 - HAILSHAM – CHIDD FEST
SUNDy 30 - TEWKESBURY – APP-UK FESTIVAL

AUGUST
FRIDAY 4 - SAFFRON WALDEN – AUDLEY END
SATURDAY 5 - CHESTER - COSMIC FESTIVAL
FRIDAY 11 - WINDSOR – RACE COURSE
SATURDAY 12 - SHREWSBURY – FARMER PHIL'S FESTIVAL
FRIDAY 18 - TUNBRIDGE WELLS – THE FORUM
WEDNESDAY 23 - LONDON – BOISDALE
THURSDAY 24 - LONDON – BOISDALE
SEPTEMBER
FRIDAY 8 - KETTERING – LIGHTHOUSE THEATRE
SATURDAY 9 - ILKLEY – KINGS HALL
SATURDAY 10 - WHITEHAVEN - SOUTH CAR PARK
FRIDAY 15 - MORECAMBE – PLATFORM
SATURDAY 16 - LONDON – PIZZA EXPRESS
SATURDAY 23 - MAIDSTONE – MOTE PARK / BOGNOR REGIS – BUTLINS
SATURDAY 30 - MINEHEAD – BUTLINS

OCTOBER
FRIDAY 13 - WHITBY – SPA PAVILION
SATURDAY 24 - SKEGNESS – BUTLINS

NOVEMBER
FRIDAY 10 - MILTON KEYNES - STABLES
SUNDAY 12 - SKEGNESS – BUTLINS
SATURDAY 18 - HUNSTANTON – PRINCESS THEATRE
THURSDAY 30 - CAMBRIDGE – CORN EXCHANGE
DECEMBER
'Everything'
The Real Thing Story
A NEW MUSIC DOCUMENTARY FOR JANUARY 2020 RELEASE.
The Real Thing are pleased to unveil a new feature-length movie celebrating their long and eventful career in music. Directed and produced by Simon Sheridan, 'Everything – The Real Thing Story' will be officially released to cinemas in January 2020.
Shot entirely on location in Liverpool, London, Bristol and Brighton, the movie features interviews with all the band members – Eddy Amoo, Chris Amoo and Dave Smith – as well as Ray Lake's widow Gail – and includes illuminating contributions from many of the band's famous friends, fans and fellow musicians. For more information about the movie, including film screenings, posters and the film trailer, please visit Everything – The Real Thing Story